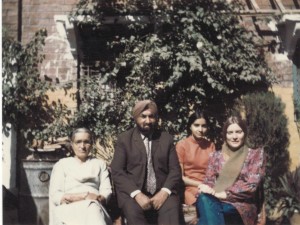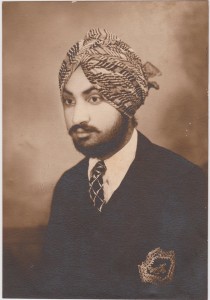 My dad Major Bhagat Singh Rekhi would have been 100 years today (April 18, 2016). He was born in village Sukho, Rawalpindi, Pakistan. He passed away back in 1974 in a motor cycle accident in Kanpur.
He was amazing person in many ways.
He was the first one in the family to matriculate from High School. He joined the army as a Jawan and went to the war in the North African theater. He returned from war as a Subhedar, the highest NCO rank. He eventually got commission as Second Lieutenant  on the eve Independence.
At the time of Independence he was only 31. His father had had a stroke and was paralyzed on one side of his body. Dad had to step up and take over as the head of the family. He had three unmarried sisters, and two unmarried brothers at the time, four children of his own. He had to take care of 13 people, including his parents, on his single salary. I never saw him complain about this once.
At the time of partition he had to bring his whole extended family, including the extended family of his dad across the border. I am told that  he went back and forth between Lahore and Ferozepur several times to ferry every body in the army truck he was allotted for his family. He moved from Ferozepur to Secunderabad, to Poona, to Agra and finally to Kanpur in six years. After that Family settled in Kanpur, but dad went on his postings alone after that. He eventually rose to the rank of Major in the army before he retired, a singular achievement for some body with his start.
He married off his three sisters and two brothers. Meanwhile, my grandfather had a second stroke and became quadriplegic. He was bed-ridden for last three years of his life until he passed away in 1958.
Dad, we called him Darji, put great emphasis on education. It was hard to get everybody in to proper school until Agra. I got my start in fourth grade! His hard work paid off when my late eldest brother got in to NDA in 1958 and came out as a 2nd Lieutenant 1961 and soon rose to the rank of Captain. Soon after that my elder brother Tony went to IMA and was also commissioned as a 2nd Lieutenant in 1965 and eventually reached the rank of Major before he took an early retirement. I got in to IIT in 1963 to do my engineering degree.
I personally never got very close to my dad. He just had too many things on his mind and I was doing too well to need any attention. I was not a favorite of his though, as I was an awkward and physically weak person. I was not seen as an officer material by him, but he became very proud of me after he discovered that the children of his senior officers, the ones he really looked up to, were not able to get in to IITs.
I left for US in 1967. I did not return for six years. I came back in fall of 1973 with my wife Ann. My dad had not approved of me getting married to an American in 1971 but he fell in love with my Ann first time he met her. I promised him a visit to England and US before I left. It was his lifelong dream.
If I could find a fault with him, it would have to be his rash driving. He had a fatal motorcycle accident in 1974.
I sponsored all my siblings for immigration to US. One by one they all came. My mother spent last 15 years of her life in US. We have an extended family of almost 40 people in the Bay Area now.
My dad never saw me achieve the great success I eventually did but I  know he is very proud up there in heaven looking down on his brood.