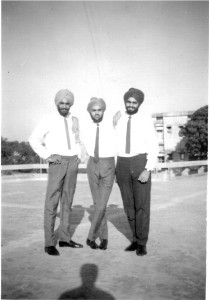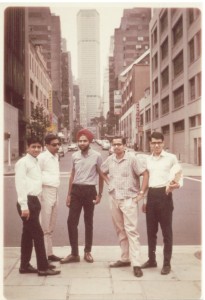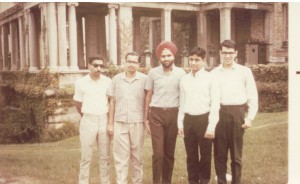 First Photo is with IIT friends Tejinder Singh and Satinder Bir Singh. I am in the middle; The second photo was in one of the automatic photo taking booth at Expo 67, which took four photos for 25 cents and instantly printed them out. I thought it would take one photo when it flashed on my back. I got back in time for the third but assumed that there were only three photos so left before the fourth. Two color photos were taken in New York. My friend Umesh Malhotra is one with the sun glasses. His friend Vikram Tewari ( in bush shirt) was going to NYU. Other two were cousins of Umesh in New York City.
————————————————————————————————————————————————————————————————————————————
I graduated from IIT Bombay with my B.Tech. in Electrical Engineering in the spring of 1967. I left for US on my 22nd birthday, August 29th 1967, to do graduate studies at Michigan Tech.  My travel took me to Paris, London, Montreal and New York. After 5 days of travel I arrived in Houghton, Michigan on September 3, 1967 on a Greyhound Bus from Detroit in the middle of the night.
I and my IIT buddy Umesh Malhotra travel together from Kanpur by train to Delhi and then by an Air France flight to Paris, with stopovers in Tehran and Tel Aviv. Tel Aviv was still in high state of alert as it had been less than 90 days since the June 6th war. We were allowed to carry $8 each as our spending cash, though Air France promised us some cash ($20 each) and free hotel stay in Paris as part of   our air fare. We stayed with one of my distant uncles in London. Montreal had the world fair (Expo 67). We spent a day at the world fair. In New York, we stayed for a day with Umesh's cousin. Summer of 1967 also saw India devalue its currency by one third. Rupee went from five to a dollar to seven and half to a dollar. It almost derailed my plans!
We flew to Detroit and took a 10 hour bus journey to Houghton Michigan's upper peninsula. Incidentally, Detroit was burning as it was having last of its regular summer race riots that day. Houghton was a quintessential small Midwestern town with a population of less than 7000 back then. Bus dropped us by the side of the road near the university. As we stepped out of the bus it was cold dark night. Luckily for us Michigan Tech was anticipating the arrival of foreign students and had reception parties at the bus stop with blankets. Next day we were taken to town where we could buy our winter gear. I bought a real warm jacket with fur collar and a hood for $6, a jacket like that would cost about $120 easily now.
First snow came within a month and it never left the ground till May of the following year. It snowed almost 300 inches that year. Having grown up in hot plains of northern India, it was a shock of the life time.
Academically, we found Michigan Tech very easy. Having spent four years in a rigorous and competitive IIT, easy going environment at Michigan Tech was a piece of cake. When I aced my tests, a professor thought that I might have been cheating. He sternly reminded me that cheating was not allowed in USA.
We settled down in to an easy routine. US was still in love with old west. The most popular TV shows included Bonanza, Gun Smoke, Virginian and High Chapperal.  The other popular shows included, Mission Impossible, Star Trek, and Laugh In. All in all life was fun.
1968 came as a rude awakening as Martin Luther King and Bobby Kennedy were shot in quick succession. Vietnam War started to go bad. Lyndon Johnson decided not to rerun, riots broke out Democratic National Convention in Chicago and Richard Nixon was elected as POTUS.
Comments
comments