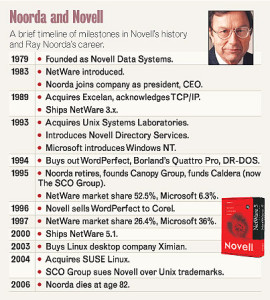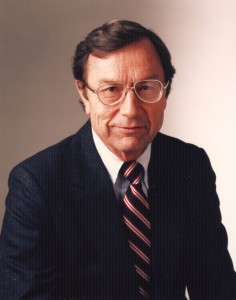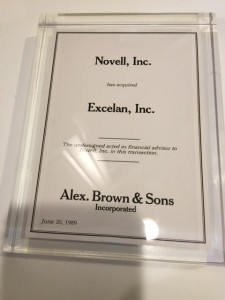 Ray Noorda was the CEO of Novell. He had bought in to failing Novell Data System and had turned it around. He ditched all the proprietary hardware and software and focused on Network Operating System software and  file server software on standard PC hardware.  He shipped complete systems by OEMing hardware for servers and NIC (network boards) from third parties. Under his leadership Novell grew rapidly and emerged as the market leader.
Starting at roughly the same point in 1984, Novell by 1989 had gone three times as far as Excelan as far as revenue was concerned. It was even farther ahead in profits. Even though, I was very proud of what we had achieved at Excelan, it all paled when compared to Novel. This was very educational for me as I was very contemptuous of Novell' low spending on R & D, only 3% of the revenue; Excelan was spending almost 20% on R & D. Excelan was very proud of its technology prowess. Excelan could network PCs, both Apple and IBM variety to UNIX machines of all types; it could also connect them to DEC mini-computers and IBM mainframes. All this using industry standards of TCP and Ethernet. Excelan was seen by its customers as a savior as they had been buying all sorts of computers for various jobs. Novel, however, was a big innovator in Sales and Marketing. Novell practically invented the tiered VAR channel (Authorized, Gold and Platinum). It developed a third party product certification program (Novell Labs); it developed an education program to train and certify Network Engineers (CNEs); it had its own trade show (Network World) and its own trade magazine (LAN Times). Novell did not give a damn about standards; it just focused on file sharing between the IBM PCs using a file servers using a proprietary protocols. As PC's sales soared, so did the sales of NetWare.
Novell acquired Excelan in 1989. After the merger I joined Novell board and worked as EVP of Novell and its CTO. Right after the merger, Novell decided to get out of the hardware business all together. With a big infusion of technology from Excelan, Novell very quickly was able to position itself as an enterprise networking solution with its Netware 3.11; which provided file sharing between PCs, Mackintoshes, UNIX machines, DEC minicomputers and IBM mainframes. This was Nirvana for enterprises. By 1991, Novell sales, profits and stock prices were skyrocketing. Novell stock grew 10 fold in two years. Excelan shareholders and employees had done well. Merger was seen as made in heaven for them and I was seen as a genius by one and all.
I championed acquisition of UNIX from ATT and to sell binaries on the Standard hardware through Novell channels. Novell did acquire UNIX but company had always seen UNIX as an enemy. Even when it owned UNIX, it was not able to overcome its visceral hatred of the UNIX as UNIX effort was not Utah based. Ray was of two mind, he liked the idea of UNIX being commodotized but bowed to his NetWare troops.
At this juncture Novell toyed with an idea of merger with Microsoft. Several meetings took place and a deal was agreed to also. Microsoft's acquisition of Fox-Pro database without talking to Ray first put a kibash to it. Ray had always hated Bill Gates; used to call him Pearly Gates. But after merger was called off, this hatred only grew. Ray acquired DR DOS to go after DOS franchise, just when Microsoft was successfully transitioning to Windows. He also tried to merge with Lotus; acquired; Wordperfect and Quatropro from Borland to come up with alternate bundle to Microsoft's Office. All this defocused Novell, which had done well being being a tightly focused company.
Meanwhile NetWare team decided to upgrade to NetWare 4 without being backward compatible and without offering the broad connectivity that NetWare 3.11 had offered. NetWare 4 was a big flop. Novell went into a steady decline. It hired Bob Frankenberg from HP as its new CEO to replace Noorda. Bob was not up to the job. I left soon after that.
At the time of merger discussions Novell's market capitalization was about $12 billion as against Microsoft's $20 billion. Three years later, Novell's market capitalization was about $2 billion, roughly the same as cash on its balance sheet. Microsoft's had soared to $600 billion. Ray Noorda had in fact destroyed Novell by going after Microsoft for no good business reasons.
I learnt many lessons during my six years at Novell. First and foremost was about the value of focus, especially in R & D. My 20% investment in R & D exposed the weakness; Excelan was getting only $5 of revenue for every dollar it put in to R &D. A whole lot of unproductive engineering effort! Novell was getting $33 for every dollar it put in R & D. Second lesson was that a business is never too big to fail. A CEO with two minds sends very destructive messages to the organization as it starts an internal war.
Ray Noorda was a brilliant but a flawed man. He was seen by his Utah minions as a traitor for expanding out of Utah and buying UNIX and rest of us saw him way over his head when it really mattered.
Comments
comments